Scroll down to find information about Publications related to the water well drilling industry.
♦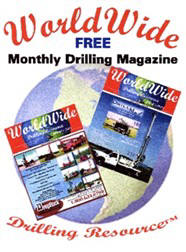 WorldWide Drilling Resource™
P.O. Box 660, Bonifay, FL 32425
Fax: 850-547-0329
Phone: 850-547-0102 or 866-975-3993
Website: www.worldwidedrillingresource.com
Email (General Information): wwdr@worldwidedrillingresource.com
Email (Subscriptions): promotions@worldwidedrillingresource.com
The complete magazine for the drilling industry worldwide, owned by drilling industry associates dedicated to bringing the most up-to-date technology and information to subscribers. Covering construction/geotechnical, directional, environmental, exploration/blast hole, shallow gas/oil, geothermal, mining, water well, international, stateside drilling; from bits, to rigs, to tanks, through wire and more; it's WorldWide Drilling Resource™. Contact us for subscription information - FREE to those involved in these industries.
♦

P.O. Box 6167; Marianna, FL 32447
Fax: 850-482-4818
Phone: 850-482-6310 Toll Free: 800-874-4245
Website: www.drilleronline.com
Subscriptions (Free for qualified individuals): http://www.submag.com/sub/jy
Email (General Information): mimsc@bnpmedia.com
Professionals in the drilling industry recognize National Driller as the undisputed leader when it comes to providing the most comprehensive and highest quality editorial package available. The best-read publication in the field, National Driller delivers the latest in industry news and trends, research and technology, product information and business management. The pages of National Driller carry the information that drilling and water industry professionals rely on to better serve their customers and to optimize the efficiency and profitability of their businesses.
♦
---